Home
Tags
Enterprise Architecture
Tag: Enterprise Architecture
mgm technology partners will be joining when the international Java community will meet again for presentations, trainings and community activities in Phantasialand, an amusement park nearby Cologne. Our frontend expert Johannes Barop ...
In March the Java User Group Munich will be dedicated to an important performance and scalability related app topic: monitoring of even smallest Java Script changes or databank requests.
"Dynamic Programming", the algorithmic solving of optimization problems with e.g. a time-dependent (dynamic) perspective, will be the Java User Group lecture evening's topic at mgm in Munich in February.
"Domain driven design on the touchstone", "Hexagonal Architecture" or maybe "Property Based Testing"? Who wants to have a share in deciding upon which topic the first joint coding in 2015 at the Softwerkskammer Munich will be dedicated to, should register with the group quickly.
Also in 2015 the Java User Group Munich's meetings held at mgm will be dedicated to the discussion of current software development topics in Java environment. In January to the change of software development towards faster putting changes into in distributed teams called "Next Generation IT" brought about by Lean Startup methods.

In "ERIC macht die Steuererklärung" (ERIC submits tax return) in the latest edition of the JavaMagazin (2/2015, main topic "Sustainable Service Design") Dr. Martin...

Article in German by our colleagues Olaf Terhorst and Dr. Dimitris Matalliotakis in the journal "Management Inspirationen".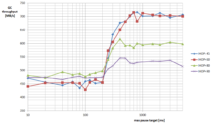 In the previous post I have shown that the GarbageFirst (G1) collector in Java 7 (and also 8ea) does a reasonable job but cannot reach the GC throughput of the "classic" collectors as soon as old generation collections come about. This article focuses on G1's ability to control the duration of GC pauses. To this [...]
As mentioned in a first post of this series, Oracle's GarbageFirst (G1) collector has been a supported option in Java 7 for some time. This post examines in more detail the performance of the G1 garbage collector compared to the other collectors available in the Hotspot JVM. I used benchmark tests for this purpose instead [...]
We are currently experiencing a Geospatial Revolution that changes in how we navigate from A to B and how we search for locations like a specific sight or restaurants nearby. Geospatial search technology provides such information. This article shows how commercial applications can utilize geospatial search, e.g. for real estate search (qualifing real estates by [...]